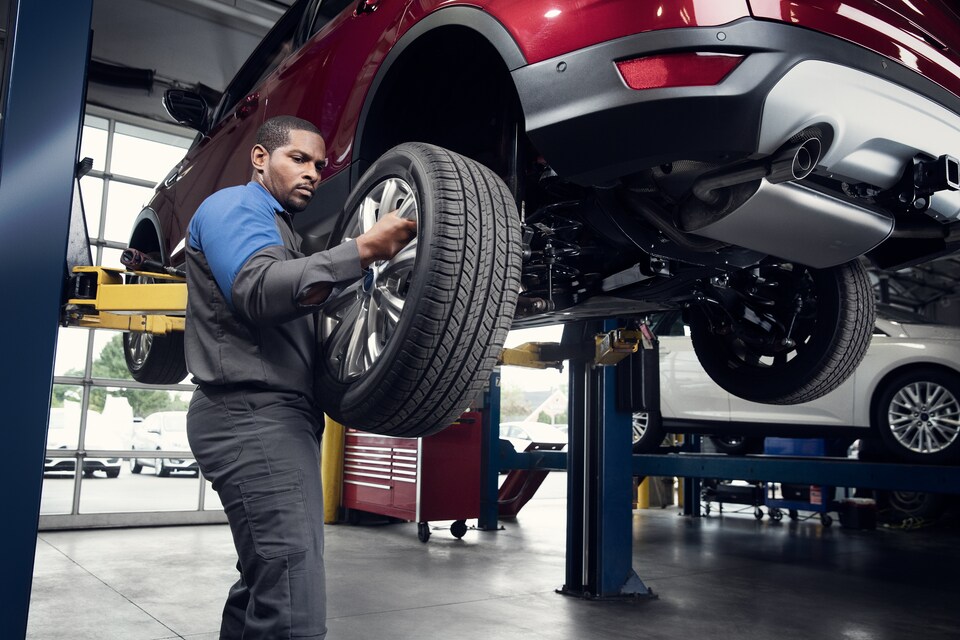 Ford Tire Service in Elkhart, IN
One of the downsides to enjoying your Ford car, truck, or SUV so much is the wear and tear you put on your tires, as you enjoy your outings in Elkhart, IN. The more miles you put on your tires, the quicker the tread wears down. When the miles start to add up, that is when you visit the team at Ziegler Ford of Elkhart's Service Center. Our experts can take care of your Ford and get you back on the road, in no time.
When your Ford needs a tire rotation or four-wheel alignment, trust the squad in Elkhart to treat your tires right. Every 6-to-8,000 miles, you need to bring your Ford Ranger, Ford Explorer or Ford Focus into Zeigler Ford of Elkhart and we will make sure your tires are well balanced and rotated, so you can get even more life out of your travels.
There are several key things to look for when it comes time to get a four-wheel alignment or tire rotation. The first one is easy. Take a look at your tread. Is it looking a little low? Then schedule your appointment with our tire specialists in Elkhart, IN. Steering pull or an off-center steering wheel is another sign your car needs a tire alignment. Perhaps you recently hit a pothole or curb, and you notice a big difference in where your Ford wants to go. Take back control of your Ford by coming in for a four-wheel alignment.
Zeigler Ford of Elkhart is also where you turn when you need to replace your old tires. With each tire replacement, our team will also make sure your new tires are properly aligned, so they roll smoothly and efficiently. Don't take a chance on your tires. Make sure you get your regular rotations and four-wheel alignment. It is just another one of the fantastic services offered by our skilled technicians at Zeigler Ford of Elkhart.