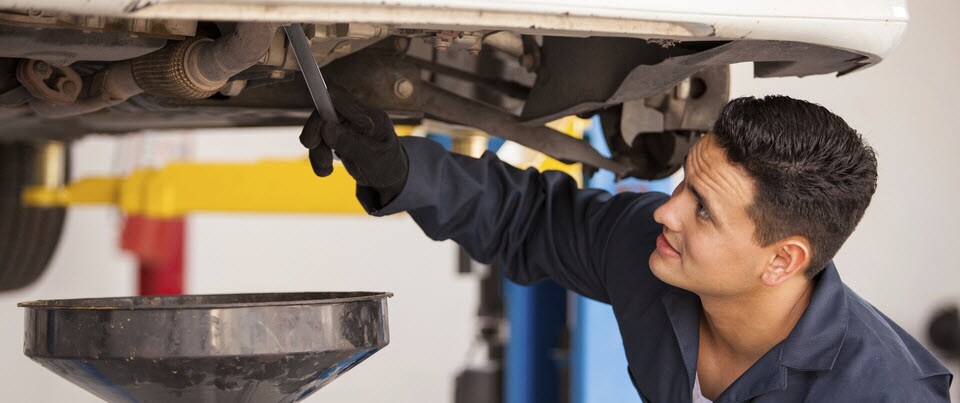 Why Should I Have my Oil Changed at the Ford Dealership's Service Department?
An oil change is an oil change, right? Not so fast! Yes, anyone can do a backyard oil change if the person has the proper tools. However, when you take your Ford vehicle in to the dealership's service department, you're going to get so much more than "just an oil change."
Why Should I Take my Ford Vehicle in to the Service Department for Routine Oil Changes?
First, check out what extra services you'll receive every time you go to the Ford Service Department. Your Ford service technician will check the health of your tires, ensure how much battery life remains, check all essential fluids, check and replace (if necessary) your windshield wiper blades, and recommend any replacement parts you might need.
Keep in mind that your Ford service technician is specially trained and ASE certified to care for every Ford vehicle on the road. That's right-your Ford service tech will know the ins and outs of every motor produced by Ford as well as the transmission. They will know if there are any issues that must be addressed, and they will consult with you on correcting those issues before you leave the dealership.
Don't forget that when you go to the Service Department of your dealer, you'll get any and all repairs completed with genuine Ford parts. You can't be guaranteed this when going to the corner garage or express oil change.
Won't it Cost More to take my Ford Vehicle to the Dealer for Service?
Not necessarily! Your Service Manager often offers discounts and may have access to manufacturer coupons for routine maintenance. Often, the Service Manager can offer coupons and discounts together to save you the maximum amount of money. Over time, you can save more money in addition to ensuring that your vehicle has been properly serviced with the proper parts.
Schedule an Oil Change Today
When considering where to take your Ford for routine maintenance, no need to count out your dealership's service department! You'll be glad you did, for a great number of reasons!