Ford is an iconic automaker for a variety of reasons, but one of the main ones is how it pushes the boundaries with its models. Well, Ford is pushing the boundaries yet again with the recently introduced Ford Mustang Mach-E, an electric SUV coming to the Mustang performance car lineup. Revolutionary, powerful, smart, and efficient, the new Mustang electric SUV is one of the most exciting vehicles coming to the market. Get more Ford Mustang Mach-E details when you read on!

With its classic sensibilities and muscular form, the Ford Mustang cuts a striking figure wherever it goes. Now, thanks to the Mustang Mach-E, Mustang drivers will have options for efficiency too. Designed to offer a higher standard of power and performance than you'd find in most all-electric cars, it can dish out plenty of horsepower and torque. For many drivers in Elkhart, IN, however, the biggest perk will be its impressive battery range.
A Revolutionary Powertrain for a New Mustang
Ford, and especially the Mustang lineup, has focused on captivating driving experiences, and the all-electric SUV provides that alongside zero-emissions driving. The most powerful of its options, the Ford Mustang Mach-E GT, packs 459 horsepower and 612 pound-feet of torque while having all-wheel drive standard for better control of all that power. Other models will still provide impressive horsepower and torque specs, and these models range from 250 to 300 miles on a single charge. Go further, faster and enjoy zero-emissions driving the entire way!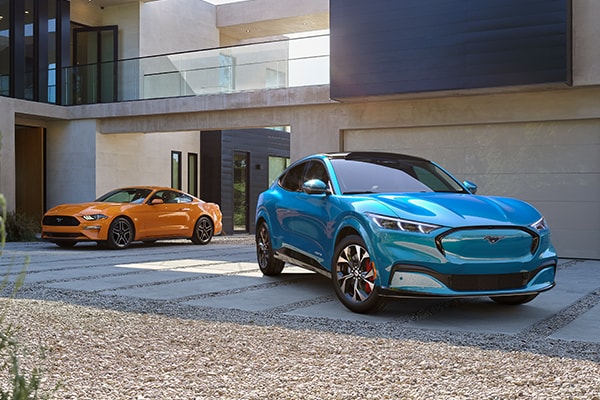 Smart Features in an SUV Design